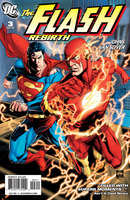 DC has posted a 5-page preview of Flash: Rebirth #3 over at The Source!
I still think the "Who's faster, Superman or the Flash?" hook is kind of silly, given that it's been answered over and over again, but the scope of the story seems to have expanded, with appearances by Liberty Belle, the JSA and the JLA.
Flash: Rebirth #3 arrives in stores next week, on June 10.

Share