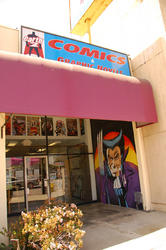 Flash: Rebirth writer Geoff Johns has gone into business with Los Angeles-area comic store Earth 2 Comics as co-owner of their new, second location in Northridge, California, CBR reports. The new location opened on April 29.
Geoff Johns will host the grand opening celebration on Saturday, June 13 (the week that Flash: Rebirth #3 comes out!) along with Philip Tan, Jeph Loeb, James Robinson, Sterling Gates, Zeb Wells and more.
"Earth-2" seems like an appropriate place for the writer of Infinite Crisis, Legion of Three Worlds and Justice Society of America…
Read more at CBR.
Share