Barry and Iris in Wednesday Comics. A future Flash in The Last Days of Animal Man. Jay in Justice Society of America. And finally, a classic Barry in DC: The New Frontier.
Wednesday Comics #4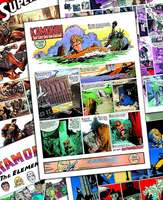 This week features the fourth issue of the 12-part weekly Wednesday Comics, including a new Flash/Iris West segment by Karl Kerschl and Brenden Fletcher
7" x 10", 16 pg, FC, $3.99 US

The Last Days of Animal Man #3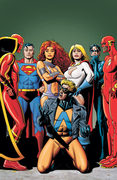 Written by Gerry Conway
Art by Chris Batista & Dave Meikis
Cover by Brian Bolland
Enter the League of Titans! Buddy Baker is cracking up, but can he rely on a little help from his friends? Or should a wounded animal just slink away to die? Starfire has an opinion on the subject, and she's never been one to keep her feelings to herself…
3 of 6 · 32 pg, FC, $2.99 US
Note: The Source has a preview of the issue. It takes place 10-15 years in the future, with a possible future Flash.

Justice Society of America #29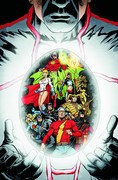 Written by Bill Willingham & Matthew Sturges
Art and cover by Jesus Merino
A new era begins for the Justice Society of America as writers Bill Willingham (Fables) and Matthew Sturges (Blue Beetle) take over the series with new artist Jesus Merino (Superman Annual) just as two new recruits make their debut with the team! Strange happenings at the JSA Mansion are weird precursors to an all-out attack on all members of the team — all but one! And what is the strange connection that new members King Chimera and All-American Kid might have with the turmoil?
32 pg, FC, $2.99 US

Absolute New Frontier HC (New Printing)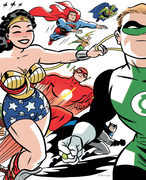 Written by Darwyn Cooke
Art and cover by Darwyn Cooke
Writer/illustrator Darwyn Cooke's award-winning, critically acclaimed masterpiece DC: The New Frontier is back in a new printing of the Absolute edition, featuring new story pages, detailed annotations, alternate sequences and an extensive gallery of sketches, pinups, action figure art and more!
In the 1950s, Cold War paranoia outlawed the Mystery Men of the Golden Age. Stalwarts such as Batman, Superman and Wonder Woman continued to fight for truth and justice, but as the world hurtled toward an uncertain future, it would take a new breed of hero to define the American Way. DC: The New Frontier takes readers on an epic journey from the end of the Golden Age of heroes to the beginnings of the legendary Justice League of America.
Darwyn Cooke's most ambitious project yet features the stunning color art of Dave Stewart, an introduction by DC's President and Publisher Paul Levitz, and an afterword by Cooke.
8.25" x 12.5", 464 pg, FC, $75.00 US

Share