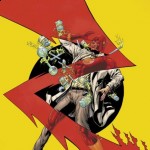 It's been a long wait since issue 3, but Flash: Rebirth #4 is not only on DC's schedule for August 26, it's on Diamond's upcoming releases list for comics shipping next week. It's very rare for a book to slip once it's made it to that list, though it does happen from time to time. (Hey, Dabel Bros.! Where's Robert Jordan's New Spring #7!) *ahem!*
Here's the current schedule:

*Since Flash v.2 #247
**Well, currently-scheduled date, anyway.
Share