Comics Should Be Good has completed their list of the Top 75 Most Iconic DC Covers as voted on by the site's readers, and the Flash has made a solid showing!
#73. Flash Comics #1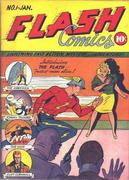 1940. The first-ever appearance of the Flash, starring Jay Garrick. Also, the first time the Flash catches a bullet. Homaged by Impulse #84.
(Tied with Green Lantern #73.)

Read on to see 8 more covers.
#67 Tie: Flash v.1 #184 and Flash v.1 #133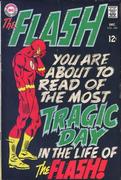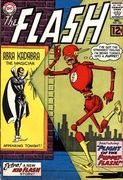 1968. The starkness of the "Most Tragic Day" cover made such an impression that it was homaged not just once, but twice in later issues — first in Flash v.1 #340 and again in Flash v.2 #76.
1962. The Puppet-Flash was not Abra Kadabra's first appearance, but it remains one of the most well-remembered images associated with the villainous magician.
(Also tied: Jimmy Olsen #53, Strange Adventures #8.)

#53. Flash v.1 #163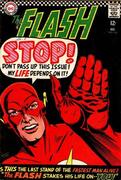 1966. The "Stop!" cover was one of Julius Schwartz' famous "concept covers," where he would have an artist do a cover, then have a writer come up with a story. Reportedly it was his favorite cover of all time, and it was homaged for DC Presents: The Flash, a memorial book in his honor.

#36. New Teen Titans #39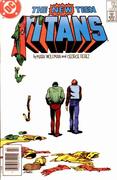 1984. Robin and Kid Flash toss away their costumes, walking away as Dick Grayson and Wally West. Dick would become Nightwing a few issues later, while Wally eventually become the Flash.
I debated on whether to include this on my Flash round-up, since I'm not including all the Justice League and All-Star covers with Barry Allen or Jay Garrick on them, but figured if I was going to include the Superman/Flash race, this should go in too.


#35. Flash v.1 #174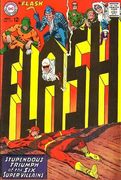 1967. The Rogues crouch atop a giant sculpture of the word "Flash," the hero apparently dead beneath them. This is another cover that has been homaged several times, including Secret Origins #41 (focusing on the Rogues) and a promotion for Bart Allen's death in Flash: The Fastest Man Alive #13.

#22. Superman #199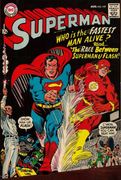 1967. The first of many races between Superman and the Flash. Revisited for Superman/Flash: Race 1990.

#15. Showcase #4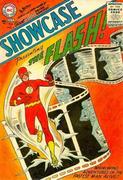 1956. The first appearance of Barry Allen. Later homaged for the collection of The Return of Barry Allen, and in a cover for Flash: Rebirth, featuring…the return of Barry Allen.

#3. Flash v.1 #123 (Flash of Two Worlds)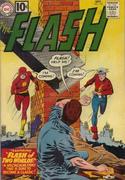 1961. The story that re-introduced Jay Garrick to a new generation, established Earth-2, and led to the creation of DC's multiverse. Also the most homaged Flash cover ever, most recently in last month's Flash: Rebirth #5.

You may have noticed a lot of these covers have been referenced by later artists! I don't remember whether homages were part of the criteria, but it certainly speaks to the staying power of many of these images.
Share