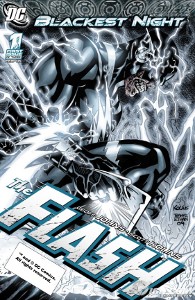 Diamond has released their list of Top 10 products for December 2009, and Blackest Night: The Flash #1 is ranked #5.
Blackest Night dominates the list, with the flagship series itself in the number one spot, Green Lantern and Green Lantern Corps at #2 and #6, and the Blackest Night: Wonder Woman and JSA miniseries debuting at #8 and #10. The remaining slots were taken up by Captain America: Reborn and Avengers titles.
Actual sales estimates aren't available yet, so we have yet to see how sales on Blackest Night: Flash compare with those on Flash: Rebirth…but it's impressive that of the three tie-in miniseries launching last month, Flash did the best. Being written by the author behind the main series can't hurt, of course!
Share