Justice League: Cry for Justice #6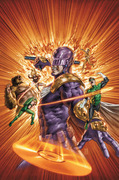 Written by James Robinson
Art and cover by Mauro Cascioli
After a shocking loss, Prometheus reveals an even greater threat to the team than they thought possible! How will this new crisis change the face of the DC Universe? Find out in the penultimate chapter of this groundbreaking miniseries event!
6 of 7 · 40 pg, FC, $3.99 US

Justice Society of America #35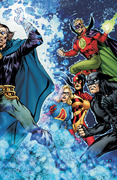 Written by Bill Willingham
Art by Travis Moore & Dan Green
Cover by Jesus Merino
It's all-out war as the leaner, meaner Justice Society of America confront another intruder in their midst! But this time it's bad news for their enemy, as he's facing a team that has learned from its past mistakes! The new incarnation of the Justice Society is more together than ever!
32 pg, FC, $2.99 US

Blackest Night: JSA #2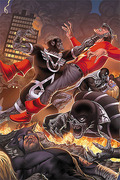 Written by James Robinson
Art by Eddy Barrows & Ruy José
Cover by Eddy Barrows & Nei Ruffino
Variant cover by Gene Ha
BLACKEST NIGHT continues! Black Lantern Lois Lane tracks down her undead husband, but their reunion could mean Power Girl's funeral! Don't miss this terrifying tie-in from James Robinson and Eddy Barrows!
This issue will ship with two covers. For every 25 copies of the Standard Edition (with a cover by Eddy Barrows & Nei Ruffino), retailers may order one copy of the Variant Edition (with a cover by Gene Ha).
2 of 3 · 32 pg, FC, $2.99 US

Green Lantern #50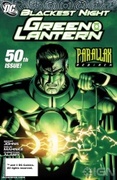 Written by Geoff Johns; Art and cover by Doug Mahnke and Christian Alamy; Variant cover by Jim Lee; Sketch Variant cover by Doug Mahnke
BLACKEST NIGHT spreads with an oversized anniversary issue! Surrounded by friends and enemies, Hal Jordan goes into battle with a being he will never defeat – the Black Lantern Spectre! Can Saint Walker, Sinestro and the others put a stop to this bizarre Spectre rebirth?
Plus, Atrocitus reveals a tie to a power that may make him the most unbeatable of all the Lanterns!
DC Universe 40pg. Color $3.99 US

Justice Society of America: Strange Adventures TP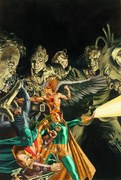 Written by Kevin J. Anderson
Art by Barry Kitson and Gary Erskine
Cover by John Watson
Johnny Thunder wants to become a big-time writer by chronicling the adventures of the JSA. But when a deadly villain called Lord Dynamo appears with a crew of deadly robot zombies, it's up to Johnny and his mentor, real-life science fiction writer Jack Williamson, to help the rest of the JSA save the day! Collecting the 2004 six-issue miniseries for the first time!
200 pg, FC, $14.99 US

Heroes of the DC Universe: The Flash Bust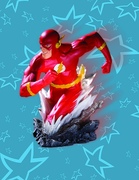 Designed by Gary Frank
Sculpted by Jean St. Jean
After offering his realistic, detailed style on the covers of the Superman monthly series, artist Gary Frank turns his talents to interpreting the men of the DC Universe in the second series of DC Direct's HEROES OF THE DC UNIVERSE busts line!
First up is Barry Allen as The Flash, as the Scarlet Speedster channels the Speed Force.
This hand-painted, cold-cast porcelain bust measures approximately 5" high x 3.5" wide x 5" deep and is packaged in a 4-color box. Manufactured to order.
Bust * $70 US

Share