Titans #22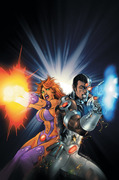 On sale February 10 · 32 pg, FC, $2.99 US
Written by J.T. Krul
Art by Angel Unzueta & Wayne Faucher
Cover by Angel Unzueta
DC fans won't want to miss this finale of the two-part "Fractured" story! As the remaining three members of the team are evicted from their New York City headquarters by General Lane, they wonder if there's anywhere on Earth they can still call home. The answer will surprise you! This issue closes this chapter in the life of the classic Titans team and ushers in an exciting new era in JUSTICE LEAGUE OF AMERICA and March's TITANS ANNUAL that'll blow your mind!

JSA All-Stars #3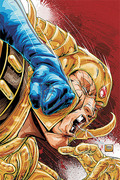 Written by Matthew Sturges – Co-feature written by Jen Van Meter; Art by Freddie Williams II
Co-feature art by Travis Moore and Dan Green Cover by Freddie Williams II
In "Constellations" part 2, the All-Stars are on the trail of the villains who've kidnapped one of their own while internal turmoil creates drama in the ranks! And after what went down in the JSA ANNUAL this month, it looks like Magog won't be on the team much longer!
In the co-feature, Liberty Belle and Hourman trek to Venice alongside Icicle and Tigress in an amazing race to learn the secret of the ancient Staff of Legends!

Super Friends #24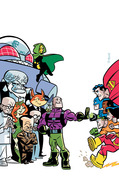 On sale February 10 · 32 pg, FC, $2.50 US
Written by Sholly Fisch
Art and cover by J. Bone
It's a super-science conference like none other when all the Mad Scientists gather together on Oolong Island to share their latest inventions — and to plot against the Super Friends!

All-Star Superman Vol.2 TP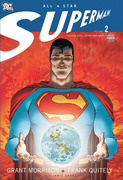 Written by Grant Morrison
Art and cove by Frank Quitely
The New York Times bestseller from the team of writer Grant Morrison and artist Frank Quitely (BATMAN & ROBIN) is now in trade paperback!
In this follow-up to the award-winning ALL-STAR SUPERMAN VOL. 1, the Man of Steel goes toe-to-toe with Bizarro, his imperfect duplicate, and the new Zibaro, also from the Bizarro planet. Plus, more exciting adventures that take Superman across the universe and back in these tales from ALL-STAR SUPERMAN #7-12.
On sale February 10 · 160 pg, FC, $12.99 US

Note: During the Bizarro story, Superman meets Bizarro-Flash.
Share