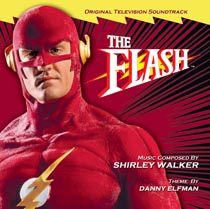 La La Land Records will release a 2-CD soundtrack from the 1990 Flash TV series at 3PM EST (noon PST) today. The show's music was composed by Shirley Walker (who, in addition to her extensive film career, also did music for the 1990s Batman and Superman animated series).
Until now, the only music available from the show was the title theme composed by Danny Elfman, on Music for a Darkened Theatre, Vol. 2
The 2-disc set is a limited run of 3,000 and features music from the following episodes:
Pilot
Captain Cold
The Trickster
Watching the Detectives
Ghost in the Machine
Done with Mirrors
Fast Forward
Trial of the Trickster
You can read more, including a full track list, in this thread at Film Score Monthly.
Update: The album page is up with a full track list and free sample tracks (and the cover art, which I've copied here). Crimson Lightning talks about how the music enhanced the show.
(Thanks to Jeff Murphy for the info!)
Share