Looks like the Flash will be wearing green — or at least a cover with the word "Green" on the front — for St. Patrick's Day.
Green Arrow #31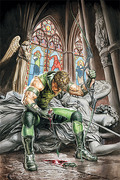 "The Fall of Green Arrow" begins here! Spinning out of the shocking events of JUSTICE LEAGUE: CRY FOR JUSTICE and JUSTICE LEAGUE: THE RISE AND FALL SPECIAL #1 comes the destruction of Green Arrow. As Oliver Queens inner turmoil and guilt overwhelms him, secrets are revealed that will tear him asunder. What will the Emerald Archer reveal to the world that will change his life and the lives of the people around him forever? And why are Hal Jordan (Green Lantern), Barry Allen (The Flash) and the rest of the Justice League hunting him?
32 pg, FC, $2.99 US
Written by J.T. KRUL
Art by DIOGENES NEVES
Cover by MAURO CASCIOLI
1:25 variant cover by MIKE MAYHEW

Titans #23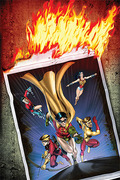 Spotlight on Red Arrow! As Roy Harper lies in critical condition after the events of JUSTICE LEAGUE: CRY FOR JUSTICE #5, his fever dreams show him the perfect future life he wants for the Titans. Unfortunately for him, its a life the Titans will never see.
32 pg, FC, $2.99 US
Written by EDDIE BERGANZA
Art and cover by ANGEL UNZUETA
DC has a 5-page preview online.

Share