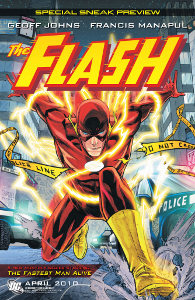 DC has released a 5-page preview of The Flash #1. The Geoff Johns/Francis Manapul series launches on April 14 (after a Flash Secret Files and Origins special this month).
It's…better than I expected, actually. Geoff Johns is finally writing that book about speed that he always wanted to do but somehow didn't get around to. I like Francis Manapul's art, though I think it needs a bit more in the movement department (the Flash looks like a statue compared to the car he's pacing). And I'm beginning to think I'd happily read a story about Iris Allen, Caffeinated Reporter (though as a journalist, I'd like to think she'd be using actual words while texting).
The preview describes the first storyline, "The Dastardly Death of the Rogues" (and now we have a definitive statement on whether "Death" is singular or plural in that title), as follows:
…coming back may have been the easy part. When one of the Flash's deadliest foes turns up dead, can the newly-returned Scarlet Speedster scour Central City to solve the crime before the elusive killer strikes again?
DC goes on to add that they'll be "talking more Flash" soon.
(The Source's images sometimes don't work on Internet Explorer. If that's the case, you might have some success with CBR's copy or Newsarama's copy of the preview.)
Share