DC has posted their Brightest Day solicitations, including Flash #3.
The Flash #3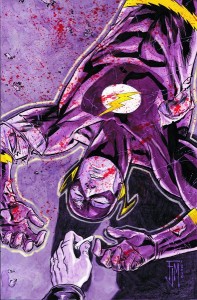 It may be BRIGHTEST DAY, but when a mysterious group of so-called heroes turns up, another Rogue ends up dead. Plus, the mystery deepens as The Flash witness another murder — his own!
On sale JUNE 9 • 32 pg, FC, $2.99 US
Written by GEOFF JOHNS • Art and cover by FRANCIS MANAPUL • 1:10 variant cover by GREG HORN
Notes: It looks like they're going to keep going with the variant covers for a while. The "solve your own murder" reminds me of "Emergency Stop," the first story in Grant Morrison and Mark Millar's brief run on the book. in the late 1990s.
Also, Jesse Quick gets a cover spot in a JLA/JSA crossover, and Lobo fights Atrocitus in Green Lantern.

On another note…
Don't forget the Design Your Own Flash Ring Contest is still running through April 26!

Share