It's been almost two years since DC officially brought Barry Allen back from the dead in DC Universe #0. Two company-wide crossovers, eight more issues of Wally West's series, two Flash miniseries and a Secret Files special later, DC has finally gotten to what we all knew was coming: a new ongoing Flash series starring Barry Allen.
Don't forget our Design and Win Your Own Flash Ring Contest! We're down to the last two weeks — entries need to be in by Monday, April 26.
Other likely Flash appearances this week: Brightest Day and Action Comics (guest-starring the JSA).
The Flash #1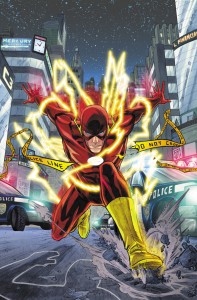 40 pg, FC, $3.99 US (Note: this is a special oversized issue. The book goes down to $2.99 next month)
Written by GEOFF JOHNS
Art, cover and 1:100 variant cover by FRANCIS MANAPUL
1:25 Variant cover by Tony Harris
A BRIGHTEST DAY tie-in! Get in on the ground floor of DC's next epic in the making! The Flash races out of BLACKEST NIGHT and into his own monthly title as the all-new adventures of The Fastest Man Alive start with "Case One: The Dastardly Death of the Rogues!" Barry Allen runs back to his life in Central City, but when one of the Rogues turns up murdered under mysterious circumstances, it's up to The Flash to not only solve this bizarre crime, but protect those that are still targeted by the elusive killer. Plus, don't miss a peek into the future of the Flash universe in this special, extra-sized starting point issue!
A 5-page preview is available at DC's website. Update: DC has re-released the preview with the final covers.
BRIGHTEST DAY #0
On sale APRIL 14 · 56 pg, FC, $3.99 US
Written by Geoff Johns & Peter J. Tomasi
Art by Fernando Pasarin
Cover by David Finch
1:50 Variant cover by Ivan Reis
The biggest event in comics continues as BRIGHTEST DAY burns back the BLACKEST NIGHT from the writing team behind GREEN LANTERN and GREEN LANTERN CORPS – Geoff Johns and Peter J. Tomasi! And don't miss the exciting DC Comics debut of red hot cover artist David Finch (New Avengers, Ultimatum)! The effects that the already classic BLACKEST NIGHT will have on the DC Universe will be felt for years to come and this issue not only sets the stage for the new ongoing biweekly DC Universe book BRIGHTEST DAY, but also the next exciting era of the DC Universe!Retailers please note: This issue will ship with two covers. This issue features a special ordering incentive. Please see the Previews Order Form for more information.
ACTION COMICS #888
40 pg, FC, $3.99 US
Written by GREG RUCKA & ERIC TRAUTMANN
Co-feature written by JAMES ROBINSON
Art by PERE PÉREZ
Co-feature art by CAFU
ACTION COMICS ships twice in April! With Nightwing nowhere in sight, ACTION #888 finds Flamebird face-to-face with the rampaging Rao! But can she defeat him by herself? Luckily, it looks like she won't have to! Enter: Wonder Woman and the Justice Society of America! And in the co-feature, Captain Atom discovers that to complete his journey, he must first travel through the lost world of Skartaris!
With the fate of both New Krypton and Earth weighing on their young shoulders, are Nightwing & Flamebird prepared to make the ultimate sacrifice? And in the co-feature, Captain Atom has managed to find a way back to Mirabai's world, intent on confronting the woman who made him a tool of destruction — but what stunning revelation awaits him there?
Share