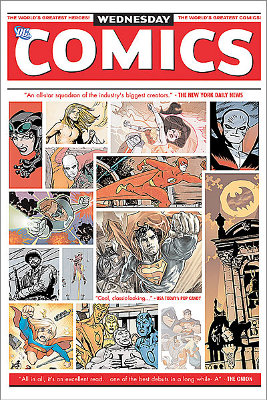 The long-awaited hardcover edition of Wednesday Comics is out this week, featuring all 15 strips from last summer's weekly series in all their 11×17″ oversized glory:
ADAM STRANGE written and illustrated by Paul Pope
BATMAN written by Brian Azzarello with art by Eduardo Risso including additional panel art on each page!
METAMORPHO written by Neil Gaiman with art by Michael Allred
DEADMAN written by Dave Bullock and Vinton Heuck with art by Dave Bullock
THE DEMON AND CATWOMAN written by Walter Simonson with art by Brian Stelfreeze
THE FLASH written by Karl Kerschl and Brenden Fletcher with art by Karl Kerschl
GREEN LANTERN written by Kurt Busiek with art by Joe Quinones
HAWKMAN written and illustrated by Kyle Baker
KAMANDI written by Dave Gibbons with art by Ryan Sook
THE METAL MEN written by Dan DiDio with art by Jose Luis Garcia-Lopez and Kevin Nowlan
SGT. ROCK written by Adam Kubert with art by Joe Kubert
SUPERGIRL written by Jimmy Palmiotti with art by Amanda Conner
SUPERMAN written by John Arcudi with art by Lee Bermejo
TEEN TITANS written by Eddie Berganza with art by Sean Galloway
WONDER WOMAN written and illustrated by Ben Caldwell
The Fletcher/Kerschl Flash strip was my favorite Flash story of 2009 (yes, I liked it better than Flash: Rebirth or Blackest Night: The Flash). It was fun, full of crazy ideas and adventure, and played around with the format, making use of the fact that it was being told as a newspaper comic strip.
Wednesday Comics sells for $49.99, though you can find it for less if you shop around. (Amazon's selling it at $31.49 to start, though since they get their inventory on a book publishing schedule, they won't have Wednesday Comics until next Tuesday.)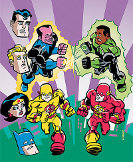 Other Flash appearances this week include:
Share