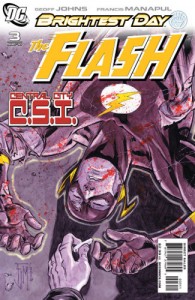 DC has posted a 5-page preview of next week's The Flash #3.
It may be BRIGHTEST DAY, but when a mysterious group of so-called heroes turns up, another Rogue ends up dead. Plus, the mystery deepens as The Flash witnesses another murder — his own!
The preview picks up the Brightest Day angle and focuses on Captain Boomerang. "Digger" Harkness discovers that he's a bit…different now that he's back from the dead. It's an interesting development, but if what's seen here can be taken at face value, I'm not sure it's necessary. It seems like a second attempt (after Owen's super-speed) to give a villain who throws weaponized boomerangs an extra edge. It's an odd choice for Geoff Johns, who managed to revitalize the rest of the Rogues simply by taking them seriously.
The Flash #3 arrives in stores next week, on June 30.
Update: I've added this issue to my gallery of Dead Flash Covers!
Share