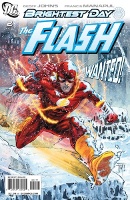 ICv2's top 300 comics for May are up, and The Flash #2 is ranked #12 with an estimated 76,560 copies sold.
Here's the round-up of how Flash vol.3 compares to other recent Flash relaunches.

Issue
Rank
Month
Units Sold
2nd-Issue Drop
Flash:TFMA #1
7
June 2006
120,404
Flash: FMA #2
25
July 2006
77,487
(-35.6%)
All-Flash #1
22
July 2007
78,955
Flash v.2 #231
26
August 2007
72,898
Flash v.2 #232
32
Sep 2007
56,969
(-21.9%)
Flash: Rebirth #1
2
April 2009
102,429
Flash: Rebirth #2
4
May
86,183
(-15.9%)
Flash v.3 #1
2
April 2010
100,903
Flash v.3 #2
12
May 2010
76,560
(-24.1%)
That's…steeper than I expected. Not as bad as the plunge from Flash: The Fastest Man Alive #1 to #2, but it's bigger than the drop on between the first two issues of "The Wild Wests." And it's a lot steeper than the second-issue drop on Rebirth.
These are, of course, based on retailers' orders, so it's not a reflection of actual readers' purchases, but how retailers anticipated those purchases. After the last several relaunches failed to catch on, perhaps we can forgive them for being skeptical.
The real test, as always, will be to see how orders for issue #4 and on hold up. With three months' lead time, that's the first issue on which stores will have placed orders after seeing how well the actual book sold.
Update: The Beat has posted a detailed analysis of DC's May sales and seems to think these numbers are average.
Share