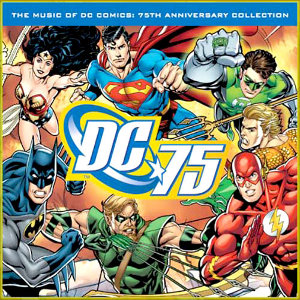 DC has announced a soundtrack compilation featuring music from movie and TV adaptations of their characters. The collection goes all the way back to the 1941 Superman cartoons by Max Fleischer Studios and runs up through Green Lantern: First Flight. A lot of it is previously unavailable material, like music from the 1967 Filmation cartoons, Super Friends and Justice League Unlimited, and the live-action Swamp Thing and Shazam! TV shows. There are also familiar tracks like John Williams' Superman theme, Danny Elfman's Batman, and the themes from the 1960s Batman and 1970s Wonder Woman TV series.
CBR has a detailed article, and The Source has the track list. Neither article has a release date more detailed than "later this year," but Amazon lists September 28.
I was surprised not to see anything from the 1990 Flash TV series (though they do have the Flash intro from the Filmation cartoons), but they may have decided it didn't represent the Flash appropriately. Danny Elfman's theme for the show does sound a lot like his Batman theme.
If you do want to pick up music from the Flash TV series, you can still get La La Land Records' limited edition 2-CD soundtrack, featuring Elfman's theme and Shirley Walker's score from eight episodes.
Share