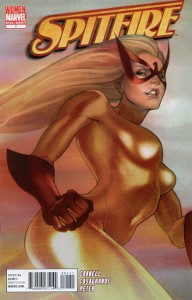 Written by Paul Cornell
Art by Elena Casagrande
Cover by Jenny Frison
5-page preview at Marvel.com
Marvel Comics' Spitfire one-shot, released last week, looks like a speedster story from the cover…but it's really a vampire story. Once I realized that, I found the second read much more enjoyable.
The Basics
Spitfire is Lady Jaqueline "Jac" Falsworth, a World-War II–era speedster who got her powers from the combination of a vampire bite and a blood transfusion from the original Human Torch. After she lived out a normal lifetime, a second transfusion restored her youth and activated vampire traits, like fangs and, most importantly for this story, immortality. She works for British intelligence service MI:13, along with vampire slayer Blade, whom she is dating.
The plot involves Spitfire and Blade pursuing a suspected spy — who is also a vampire — to New York. Through the course of their pursuit, Spitfire has to confront the similarities between their quarry and what she herself has become. Will immortality leave her jaded and empty, like it has so many of the vampires she's met? Will she become what they hunt?
New Readers? Really?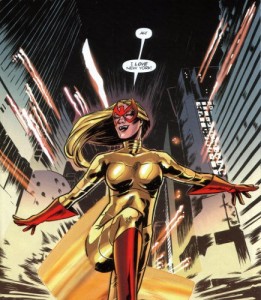 As someone who doesn't follow Marvel Comics very closely, and hadn't even heard of the character until a few days ago, I appreciated the text page at the beginning. It's a bit dense, but it covers Spitfire's origin, her history with vampires and fighting Nazis, her recruitment by MI:13, and her relationship with Blade. It's also easily skippable by readers who are familiar with the character.
The cover is labeled "Women of Marvel," which seems to be some sort of event like DC's ill-titled "Girlfrenzy" set of one-shots during the 1990s. Most of what I can find online has to do with a series of variant covers for established books like Captain America, Iron Man, and the Avengers, so I'm not sure what other books are involved.
So How Is It?
Mild spoilers after the cut.
I said it's more of a vampire story than a speedster story. There are several reasons for that:
For one thing, there's very little speeding going on in these pages: A couple of brief runs early in the book, and one frame in the big fight scene, but that's about it. As far as powers go, Spitfire is focusing on learning to use her new, extended vampire senses (and celebrity). Blade, meanwhile, takes a break from his usual main-character status to be a mentor for this story.
It's a very moody book. Colors are dark and muted to the point that sepia-toned flashbacks barely stand out as different. A good 2/3 of it is talking, either about the mission or about the nature of vampires. Then there's the villain, who betrays her country (to the Nazis, no less) for no other reason than that she's bored with immortality. Jac herself is deeply concerned that she'll one day go down the same road.
That's really the core of the story: Can Spitfire remain essentially human if she lives for hundreds of years? It's an intriguing question (as you can see by the number of examples in that TVTropes link), and could probably support a longer story. It's given as much closure as you can in 22 pages, but it's not the sort of thing that can be resolved in one night.
The Bottom Line: If you're looking for a super-speed adventure, look elsewhere. If you're looking for a vampire hunt or a character piece on the perils of immortality, you should definitely check it out.
Share