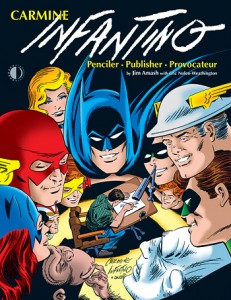 In just a few weeks, TwoMorrows Publishing (the company that brought you The Flash Companion) is releasing Carmine Infantino: Penciler, Publisher, Provocateur, a profile and extensive interview with the legendary artist by Jim Amash and Eric Nolen-Weathington.
The book arrives September 22 in two editions: a 224-page softcover and a 240-page hardcover with an additional 16-page color section not found in the paperback edition.
Even better: They're offering a free 25-page preview [5.4MB PDF] online, pulled from an extensive interview on launching the Silver Age Flash and the artist's approach to design, all heavily illustrated.
Carmine Infantino is the artistic and publishing visionary whose mark on the comic book industry pushed conventional boundaries. As a penciler and cover artist, he was a major force in defining the Silver Age of comics, co-creating the modern Flash and resuscitating the Batman franchise in the 1960s. As art director and publisher, he steered DC Comics through the late 1960s and 1970s, one of the most creative and fertile periods in their long history.

Join historian and inker Jim Amash (Alter Ego magazine, Archie Comics) and Eric Nolen-Weathington (Modern Masters book series) as they document the life and career of Carmine Infantino, in the most candid and thorough interview this controversial living legend has ever given, lavishly illustrated with the incredible images that made him a star. Carmine Infantino: Penciler, Publisher, Provocateur shines a light on the artist's life, career, and contemporaries, and uncovers details about the comics industry never made public until now.
Carmine Infantino: Penciler, Publisher, Provocateur will be available on September 22.
Share