Jesse Richards sent in these photos of some bizarre Flash merchandise he found: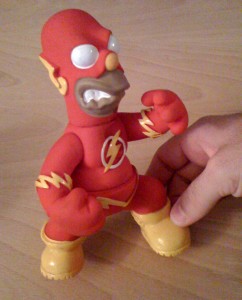 One is a knockoff of not one, but two, franchises as it's Homer in a Flash costume. It's a pretty well-sculpted plastic piece with a surprising amount of articulation but some sloppy painting in places. I got it in a street fair in Brooklyn – no packaging or anything. They had other superheroes, too. I don't know why he's angry.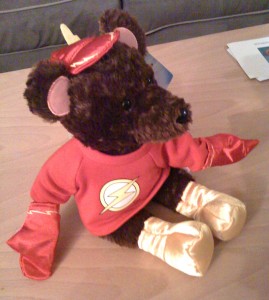 The other one is possibly even weirder … my parents found it at the gift shop at Great Adventure (Six Flags in NJ). There has always been a lot of DC superhero stuff there, but this one is freaky – I thought it was a rat in a Flash costume but now I think it's a bear in a Flash costume. The hat is the most interesting part, a baseball cap with lightning bolts.
Share