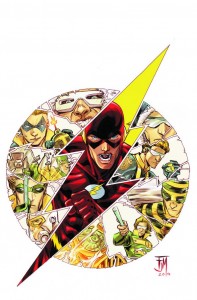 According to DC's website, The Flash #6 has slipped from October 27 to November 3. That's one more week to wait for the conclusion of "The Dastardly Death of the Rogues."
The two Scott Kolins-drawn issues focusing on Captain Boomerang and Professor Zoom remain unchanged from their previous schedule, as does the first issue of the next story arc, "Hot Pursuit," on which Francis Manapul returns to the book. If everything holds, Flash may miss October, but will ship double issues in both November and December.
On a related note, I do still plan to review The Flash #5. It's just been a really busy two weeks.
Share