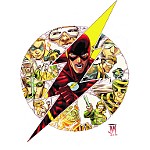 The Flash #6 is on Diamond's shipping list for next week, so we'll finally get to read the end of the first story arc of the series!
So far, there haven't been any more changes in the schedule of issues #7-10.
On a related note, at this point I don't think I'll have time to write a full review of The Flash #5, so I'll just say that I liked it, and appreciated the fact that everything I disliked about the previous issue turned out to be a lie. Follow-through on one plot point was a bit underwhelming, though.
Share