DC's solicitations are out for next March. In addition to the already-announced Flash #11, we have Superman vs. the Flash and Superboy vs. Kid Flash races, plus upcoming collections.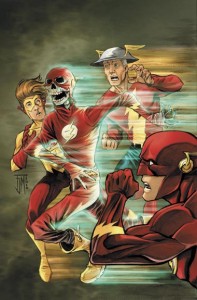 THE FLASH #11
Written by GEOFF JOHNS
Art and cover by FRANCIS MANAPUL
1:10 Variant cover by SCOTT KOLINS
The road to FLASHPOINT is paved with good intentions, but The Flash is about to learn the truth behind those good intentions — and the secret of Hot Pursuit!
RESOLICIT • On sale MARCH 30 • 32 pg, FC, $2.99 US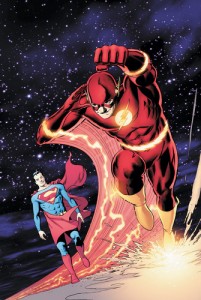 SUPERMAN #709
Written by J. MICHAEL STRACZYNSKI & CHRIS ROBERSON
Art by EDDY BARROWS & J.P. MAYER
Cover by JOHN CASSADAY
1:10 Variant cover by ADAM HUGHES
Superman visits Boulder, Colorado, as "Grounded" races forward! And speaking of racing, here comes The Flash! The Scarlet Speedster has made a strange discovery that relates to Superman, so he tracks The Man of Steel down in the Centennial State to get some answers! What did Flash discover? Well, let's just say there's a reason Superman isn't very happy to see him…
On sale MARCH 16 • 32 pg, FC $2.99 US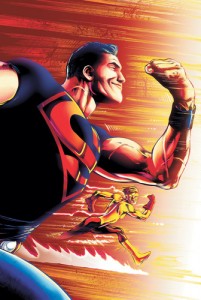 SUPERBOY #5
Written by JEFF LEMIRE
Art by PIER GALLO
Cover by EDDY BARROWS & J.P. MAYER
1:10 Variant cover by FRANCIS MANAPUL
Get ready for the first-ever Superboy/Kid Flash race! Bart Allen may have the speed, but Conner Kent has the power – who will win?! Meanwhile, a dangerous threat is nipping at their heels, one that may mean the end for Superboy, Kid Flash and all of Smallville!
On sale MARCH 9 • 32 pg, FC, $2.99 US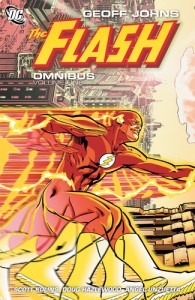 THE FLASH OMNIBUS VOL. 1 BY GEOFF JOHNS HC
Written by GEOFF JOHNS
Art by ANGEL UNZUETA, DOUG HAZLEWOOD, SCOTT KOLINS, ETHAN VAN SCIVER and others
Cover by SCOTT KOLINS
The first in a series of hardcover volumes that collect all of the best-selling issues of THE FLASH written by comics superstar Geoff Johns, beginning with issues #164-176, plus THE FLASH: OUR WORLDS AT WAR #1, THE FLASH: IRON HEIGHTS and THE FLASH SECRET FILES #3!
In this volume, Wally West finds himself without his super speed in a darker, mirror version of Keystone City. Can a powerless Flash defeat Captain Cold and Mirror Master to save the city he loves? Plus, The Flash is shocked to learn that a strange cult is killing all the people he has ever rescued. Featuring art by fan-favorites Ethan Van Sciver, Scott Kolins and more!
On sale MAY 18 • 448 pg, FC, $75.00 US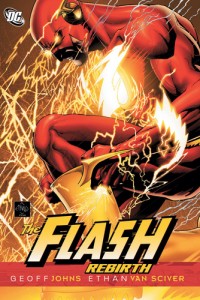 THE FLASH: REBIRTH TP
Written by GEOFF JOHNS
Art and cover by ETHAN VAN SCIVER
Geoff Johns and Ethan Van Sciver, the writer/artist team behind the blockbuster GREEN LANTERN: REBIRTH and THE SINESTRO CORPS WAR, create an explosive, jaw-dropping epic that reintroduces Barry Allen as The Flash in this new collection of the fast-paced 6-issue miniseries. But how will this greatest of all Flashes find his place in the 21st century?
On sale APRIL 27 • 168 pg, FC, $14.99 US

Share