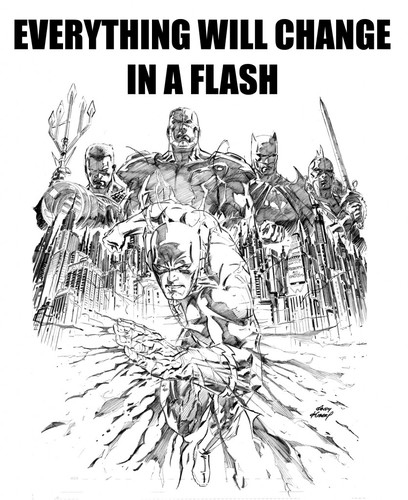 DC has posted a new Flashpoint teaser, including the titles of fourteen of the fifteen tie-in miniseries, broken down by category:
Whatever Happened to Gotham City?
FLASHPOINT: BATMAN KNIGHT OF VENGEANCE #1-#3
FLASHPOINT: DEADMAN AND THE FLYING GRAYSONS #1-#3
Whatever Happened to the World's Greatest Super Villains?
FLASHPOINT: CITIZEN COLD #1-#3
FLASHPOINT: DEATHSTROKE & THE CURSE OF THE RAVAGER #1-#3
FLASHPOINT: THE OUTSIDER #1-#3
Whatever Happened to the Aliens?
FLASHPOINT: ABIN SUR THE GREEN LANTERN #1-#3
FLASHPOINT: PROJECT: SUPERMAN #1-#3
Whatever Happened to Science & Magic?
FLASHPOINT: FRANKENSTEIN & THE CREATURES OF THE UNKNOWN #1-#3
FLASHPOINT: SECRET SEVEN #1-#3
Whatever Happened to Europe?
FLASHPOINT: EMPEROR AQUAMAN #1-#3
FLASHPOINT: WONDER WOMAN AND THE FURIES #1-#3
FLASHPOINT: LOIS LANE AND THE RESISTANCE #1-#3
Everything You Know Will Change in a Flash
FLASHPOINT: KID FLASH LOST #1-#3
FLASHPOINT: THE WORLD OF FLASHPOINT #1-#3
So, they're all 3-issue miniseries. DC might run some of them during the first part of the event and others during the second part, but I think it's more likely to play out this way:
May: Flashpoint #1 and some of the one-shots.
June-August: Flashpoint #2-4 and the minis.
September: Flashpoint #5 and the rest of the one-shots.
Assuming, of course, that the whole thing stays on schedule. It's also still possible that the related regular series will be suspended during June-August while the altered miniseries run instead.
Citizen Cold is obviously going to center on Captain Cold.
So, Kid Flash Lost. Wally West? Bart Allen? Or Iris "Irey" West II? As much as I'd like to see the Kingdom Come version of Kid Flash again, I think the best match with the title is time anomaly Bart Allen, who has a history of resisting changes to the timeline (Impulse: Bart Saves the Universe, the Dark Flash saga) and will once again be trapped in a world changed from the one he remembers.
Share