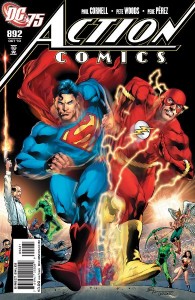 A few updates at Flash: Those Who Ride the Lightning:
I've finally added an index of storylines from Rebirth onward, including the upcoming "Hot Pursuit" and Flashpoint stories. I also ended up combining the 1987-2006 and 2006-2008 indexes together in a 1987-2008 index that covers all of Wally West's series, plus the brief Flash: The Fastest Man Alive.
Also added: the 75th Anniversary cover for Action Comics #892, referring back to the first Flash/Superman race in Superman #199. Check out the list of cover homages.
And I've updated the index of Rogue Profiles to include the last two issues featuring Captain Boomerang and the Reverse-Flash.
Share