DC's May solicitations are up!
The Flash #13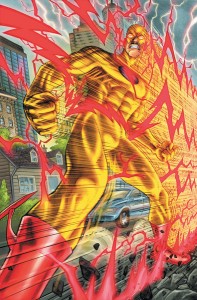 Written by GEOFF JOHNS and SCOTT KOLINS
Art and cover by SCOTT KOLINS
1:10 Variant cover by ANDY KUBERT
THE ROAD TO FLASHPOINT concludes! His name is Eobard Thawne. He is the fastest man alive. He is the Flash of the 25th Century. You know who he is and how he got his speed. But you don't know the rest of the story. Find out how Thawne went from Flash to Reverse-Flash and what his mission is next in this unlucky thirteenth issue on the Road to FLASHPOINT!
On sale MAY 4 • 32 pg, FC, $2.99 US • RATED T
Note: I don't have my comics here to check, but isn't this cover the final splash page from the Reverse-Flash spotlight in Flash #8?

Flashpoint #1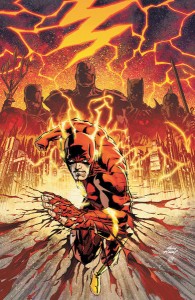 Written by GEOFF JOHNS
Art and cover by ANDY KUBERT
1:25 Variant cover A by ANDY KUBERT
Variant cover B by IVAN REIS and GEORGE PÉREZ
Not a dream, not an imaginary story, not an elseworld. This is Flash Fact: When Barry Allen wakes at his desk, he discovers the world has changed. Family is alive, loved ones are strangers, and close friends are different, gone or worse. It's a world on the brink of a cataclysmic war – but where are Earth's Greatest Heroes to stop it? It's a place where America's last hope is Cyborg, who hopes to gather the forces of The Outsider, The Secret 7, S!H!A!Z!A!M!, Citizen Cold and other new and familiar-yet-altered faces! It's a world that could be running out of time, if The Flash can't find the villain who altered the time line!
Welcome to FLASHPOINT!
On sale MAY 11 • 40 pg, FC, $3.99 US • RATED T

Booster Gold #44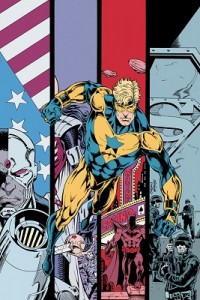 Written by DAN JURGENS
Art and cover by DAN JURGENS and NORM RAPMUND
Dan Jurgens returns to BOOSTER GOLD just in time for this FLASHPOINT prelude. Booster Gold returns to Rip Hunter's lab after the events of TIME MASTERS and finds that this world isn't the same one he left behind.
On sale MAY 18 • 32 pg, FC $2.99 US • RATED T

DC Comics Presents: The Flash #1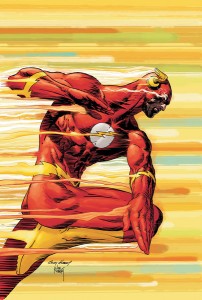 Written by JOHN BROOME and ROBERT KANIGHER
Art by CARMINE INFANTINO, JOE GIELLA and others
Cover by ANDY KUBERT and JOE KUBERT
Spotlighting tales of time travel and the Rogues, these tales from SHOWCASE #4 and 14, THE FLASH #125, 130 and 139 pit The Scarlet Speedster against "The Giants of The Time World," "The Conquerors of Time," along with Mirror Master, Captain Boomerang, The Top, Captain Cold, The Trickster and The Reverse Flash!
On sale MAY 11 • 96 pg, FC, $7.99 US
Note: This is a pretty good set of time travel stories that haven't been reprinted in years. (More on Silver-Age Flash reprints.) The cover shown here is the Andy & Joe Kubert variant cover from Flash: The Fastest Man Alive #1.
And coming up later this summer:
Brian Bolland: Cover to Cover HC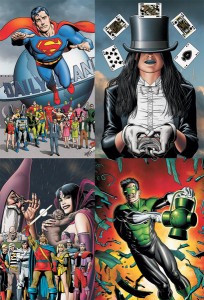 Written by BRIAN BOLLAND
Art and cover by BRIAN BOLLAND
Artist Brian Bolland, best known for his work as illustrator of the best-selling title BATMAN: THE KILLING JOKE, is the subject of this new hardcover collecting his covers for DC Comics. Featuring highly detailed and meticulous craftsmanship combined with dramatic takes on the world's best-known Super Heroes, Bolland's work has been featured on GREEN LANTERN, BATMAN, WONDER WOMAN, THE FLASH, ZATANNA and the Vertigo series THE INVISIBLES and ANIMAL MAN. This spectacular collection includes rarely seen and never-before-published art, along with commentary from Bolland.
On sale AUGUST 31 • 208 pg, FC, 8.625" x 11.625", $39.99 US
Note: Bolland had a long run as the cover artist on The Flash when Geoff Johns took over the book in 2000, from Flash #164 ("Wonderland") through Flash #187 ("Crossfire"), and did the highly-recognizable Showcase homage for the cover of the collected Flash: The Return of Barry Allen.
As a reminder, we're keeping track of the Flashpoint creative teams as they're announced or leaked.
Share