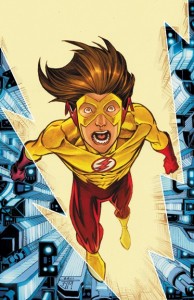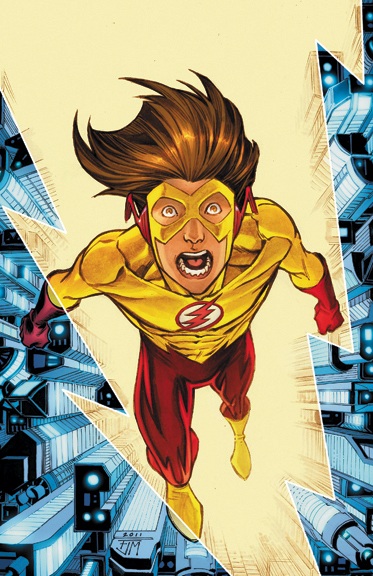 Newsarama interviews Sterling Gates on his Flashpoint tie-in miniseries, Kid Flash Lost. As he describes it:
In Kid Flash Lost, Bart also remembers the regular universe. The only difference is that Barry is in the present day of Flashpoint, while Bart is in the future…. So he wakes up in a very, very different future from the one in which he grew up, the one he knew when he was a very small kid…. Bart realizes he needs to get back in time, or else the timestream will sort of correct itself, meaning he will pull a Marty McFly and fade out.
(Key points clipped together from several different paragraphs.)
We're going to see a lot of things that aren't covered in the main Flashpoint book, as Bart explores the future and finds out what happened to the Flash family.

What happened to Jay Garrick? What happened to Wally West? And where's Max Mercury? Bart's going to dig in and dig through some historical stuff over the course of the three issues, and we're going to see where a lot of our speedsters are. It's a Flash story as well as a Kid Flash story.
There's a lot more in there about the tone, how Hot Pursuit fits in, and Bart Allen's idea of "Kid Flash Facts." Read the whole interview!
Share