Salutations Speed Readers,
About a month ago popular shoe retailer, Journeys announced that Converse and DC Comics would be teaming up again to release another round of DC Comics inspired Chuck Taylor's (or just Chucks) with five of them being Journeys store exclusives. Out of the five exclusives we finally got a pair of official Flash Chucks. I preordered my own pair a month ago and they finally arrived yesterday.
First check the box they came in: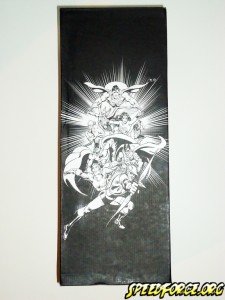 The box was a lot smaller than any other pair of Converse I've received to date and on the top there is a graphic of the main DC heroes featuring Superman, Hawkman, The Flash, Wonder Woman, Green Lantern, Batman, Robin, Aquaman and Green Lantern. Despite all of the advertising featuring the all new looks of the characters, they've decided to stick with the characters' classic appearances when it comes to the packaging and art (probably because this was in development way before anyone had an idea that DCnU was actually going  to happen). Great simple packaging that gets the job done.
Now let's open 'em up: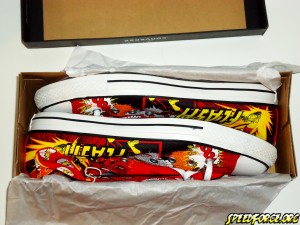 More than enough space to pack these kicks (shoes for the uninitiated) in. One of the things I've always loved about Chucks is how easily they can be packed into a messenger bag or backpack. They fold up and bam. Makes it easy if you are like me and are running around a lot but want to keep your Chucks as clean as possible. Of course all Chucks run down eventually, but the longer I can keep them looking fresh the better for me.
The side view: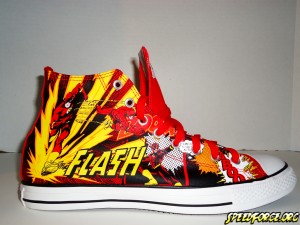 I do have to say that their choices for art are extremely unexpected, especially with the recent announcements made by DC. The picture on the ankle is promotional art used from when Bart Allen was The Flash; you can see his gold eyes if you look closely. I also remember seeing this image on a few different t-shirts at Six Flags a few years. Definitely Bart. Moving to our right we see Barry Allen positioned above The Flash logo with who we will call Wally West chilling on the corner of the logo (although I'm fairly certain that when I saw the original picture of this image the eyes were also yellow). Still it is obvious what DC and Converse were trying to do with this; show off three generations of speedsters. Jay doesn't quite fit the color scheme altogether and stands out as the less sleek Flash so they left him out, which makes sense from a style standpoint.
Now for the other side: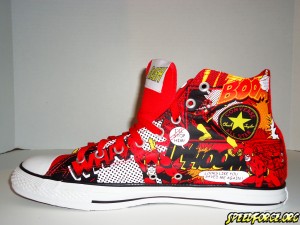 Alright this side features the classic Chuck Taylor Converse All Star patch rendered in colors that match the shoe (red, yellow and black).  One image on this side is repeated, the one I called Wally, but we have another picture of Barry below the All Star patch and another picture of when Bart was the Flash as we move closer to the toe.  After checking out the Journeys Flash page, it definitely becomes a bit more obvious that they were actually planning on trying to include a variety of Flashes. Although as I read the description I see no mention of Bart, however they do mention Jay. Maybe I'm just reading too much into this and they just chose a bunch of Flash pics without any thought of who was behind the mask? That actually sounds a bit more probable. In any case though it is funny to see an accidental nod to Bart Allen's version of The Flash. I don't think anyone would do it on purpose. 🙂
The front view: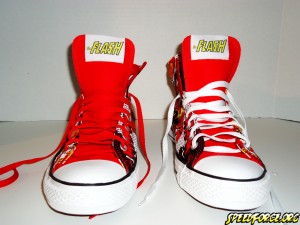 The shoes came with both red and white laces, I laced up different ones to give you the idea of the look of them and how drastically the laces can change them.I'm a fan of the red laces myself but both have their charms. The Flash logo on the tongue was a nice touch but one that I rarely take advantage of. I just don't like the look of the tongue exposed when wearing them out and they flop about so I usually leave them under my jeans.
Top View: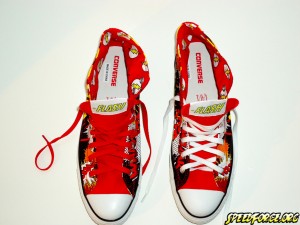 Another great touch are those little Flash symbols inside the shoe. I almost wish I could turn these shoes inside out and wear them like that; They would match the couple of hats I have like that (with symbols all over them). That is one detail that would be nearly impossible to find on a custom pair and a welcome one on this pair.
And finally the rear view: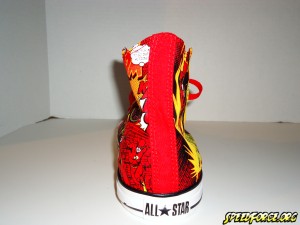 Nothing really special about the back. It definitely looks empty there though. Then again there is a bunch of other stuff elsewhere on the shoe so this and the front almost feel like a breather from the awesomeness that are these shoes.
I ended up wearing them to work today, with my Flash-colored Hawaiian shirt (I work at Trader Joe's), my Flash Fossil Watch, and red Flash wristband and they were a hit and a half. I am extremely satisfied with my purchase and my only gripe would have to be the lack of Wally's classic white eyed, crimson costume being on the shoe. I still think that is the best version of The Flash costume period.
For those that haven't gotten their pair yet, Journeys is still taking orders HERE. They will set you back $59.99 plus shipping, but personally I call that a bargain.
This is now my fourth pair of officially licensed Flash shoes but it isn't enough. Tell me why a character whose main power is running doesn't yet have an official running shoe or at least more shoes? It boggles the mind.
Who still has to put their order in?
Thanks for reading,
Share