As Speed Force marks its third birthday, we thought it would be kind of fun to take a look back at where each of the Fastest Men Alive were in the third year of their careers.  It ended up being really fun.
A lot can change in three years, but Speed Force is still the place for up-to-the-picosecond Flash news and analysis.  What about the heroes who inspired Speed Force?  Where were Jay Garrick, Barry Allen and Wally West exactly three years after their titles launched?  We'll take a look at those three issues, and the creators involved.
JAY GARRICK:
Flash Comics #1 went on sale November 10, 1939, introducing super-speedster Jay Garrick to the world.  Three years later, on November 10, 1942:
Flash Comics #37 went on sale, featuring the story "Crime Goes Crazy" by Gardner Fox and Hal Sharp.
All-Flash #7 was on sale, featuring the story "The House of Horrors," also by Fox with Harry Tschida.  Issue #8 was due later in November.
Flash also appeared in Comic Cavalcade #1, alongside the Justice Society.


I've honestly not read any of these issues.  The only issue with a synopsis at Mike's Amazing World of DC Comics is Comic Cavalcade, which is also the only one which has been reprinted (in a DC Archives volume).  Amazingly, the story is called "Crime's Birthday Party"(!) and features a Flash-heavy plot.  The story involves a mobster named "Horseface" suspiciously turning himself and his gang over to the police, even buying one officer a new uniform.  The synopsis includes these Flash-points:
…the Flash discovers that the police uniform was doctored with a knockout chemical.

Flash rescues them and in the process learns that the real Horseface is not in prison.  Flash gets a list of other presents given out by the gang.  He uses it to locate Horseface and his mob.
Boom!  Happy anniversary.
BARRY ALLEN:
Not counting the Showcase issues, Barry Allen's own series began with Flash #105 on December 23, 1958.  On December 23, 1961:
Flash #126 was on sale from earlier in the month (Dec. 7), with stories by John Broome and Carmine Infantino.
Flash was appearing in Justice League of America #9 (Dec. 14) by Gardner Fox and Mike Sekowsky.
Flash #126 includes a classic Flash/Mirror Master battle and the first appearance of Daphne Dean, Barry's childhood sweetheart.
I kid you not, Justice League of America #9 features the secret origin of the team, on the occasion of their third anniversary.  In it, Flash uses his powers to defeat a flame monster.  A candle perhaps?  Not making this up, folks.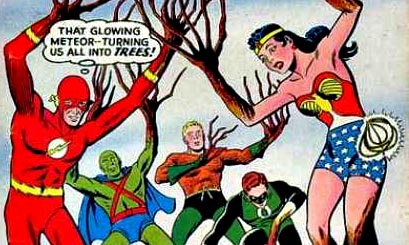 Boom!  Happy anniversary.
WALLY WEST:
Flash#1, kicking off the third volume of the series, was released on March 5, 1987 with Wally West in the wingtips.  On March 5, 1990:
Flash#37 was on sale (Feb. 13), featuring "Channels of Love…and Fear" by William Messner-Loebs and Greg LaRocque.
There is a Justice League America/Europe crossover called "Furballs" that takes place around this time, and according to comicbookdb.com Flash appears.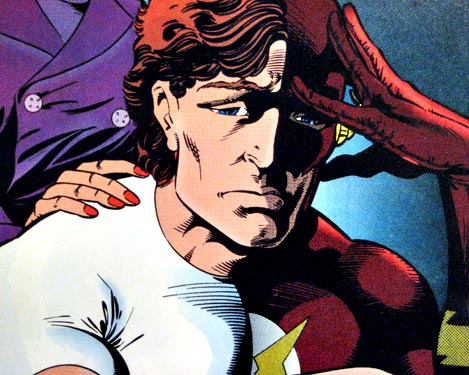 I have not read that particular Justice League story, but the synopsis I found mentions a cat setting off some alarms at JLA HQ.  My cat's name is Wally…and that's a weird as the coincidences get here.  Two out of three, not bad.
Happy anniversary!
(Big thanks to Mike's Amazing World of DC Comics – www.dcindexes.com)
Share