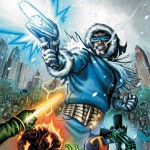 At Heroes*Con, Ken O of That F'ing Monkey interviewed Scott Kolins, the writer/artist of Flashpoint; Citizen Cold. Kolins talked how he ended up tweaking the various characters and their looks, including a funny story about the Weather Wizard:
I got to do something that Geoff Johns laughed about; I gave Weather Wizard that goatee. It's a reference to when we had originally changed his costume in the Flash books years ago and made his pattern green with yellow stripes on it. At that time when I did sketches for him to show DC what we wanted to do I had given him facial hair; at that point it was a handle bar mustache. Geoff was like, "This looks great…lose the handlebar mustache." So this time when he saw the goatee he was like, "All right, fine. You finally get to put it on him."
He also mentions that he has his next project already lined up. It's not one of the 52 relaunched books for Septemeber, so presumably we'll see something from Kolins' pen launching in the months to come.
There's a lot more. Read the whole interview at That F'ing Monkey.
Share