Hey Speed Readers,
So DC Collectibles put out their solicits for September/October 2013 and one item of interest stands out to New 52 Flash fans:
DC COMICS – SUPER–VILLAINS CAPTAIN COLD ACTION FIGURE

The DC COMICS – THE NEW 52 look of The Flash's Rogues Gallery member Captain Cold is perfectly captured with this action figure based on his all-new design.

On Sale September 2013 • Action Figure • $24.95 US

*Allocations May Occur
Yeah, yeah I know *New 52 grumble*. Still great looking figure and one that I can't wait to add to my display. I'm loving the ice accessories that match up with his current powers (makes the $24.95 price point a bit easier to swallow) and what looks to be a swanky removable hood so we can see New 52 Len in all of his glory. We haven't had a new Captain Cold six-inch version since Mattel's ( mostly disappointing, imo) DC Universe Classics Captain Cold which while detailed (with removable gun and holster) they flubbed his height when compared to the other Rogues in the line. He looks super short standing next to Mirror Master and Captain Boomerang.
The good Captain has had two previous DC Collectibles (DC Direct) figures that both pretty much knocked it out of the part. The first was from DC Direct's 2001 Rogues series featuring Captain Cold (in a beautiful sculpt reminiscent of Scott Kolins' work on Captain Cold in the Flash) and came with his freeze gun and removable glasses. The figure still holds up well compared to the more recent releases from DC Collectibles but this figure came out 12 years ago so we desperately need some updated Rogues in the line up. The second came about through DC Direct's Alex Ross Justice line based on the 12 issue maxi-series. This one definitely has the most detail of all of the Cold releases (removable gun from holster and you can kind of pull down the hood to get a glimpse at Len pre-New 52).  Unfortunately the "good" captain is horribly out of scale with just about all of your average DC Direct/DC Collectibles releases not to mention the stylistic differences (being based on the photo-realistic art of Alex Ross) makes it stand out big time among a display of basic DC Direct/DC Collectibles figures.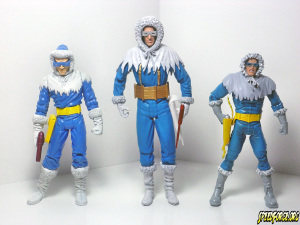 So who else is looking forward to adding a New 52 styled Captain Cold to your display? Any other Flash Rogues you hope to see from the New 52? Let us know in the comments below!