This week* sees the release of the second issue of Flashpoint, as well as four of the tie-in miniseries.
Flashpoint #2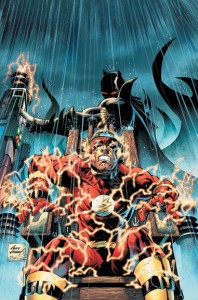 Written by GEOFF JOHNS; Art and cover by ANDY KUBERT and SANDRA HOPE; Black and White Variant cover A by ANDY KUBERT; Variant cover B by IVAN REIS and GEORGE PÉREZ
The world-changing miniseries continues! Where are the World's Greatest Super Heroes? Barry Allen is on a mission to find out or die trying – and that may be what's happening as he tries to make lightning strike twice! Meanwhile, around the submerged Paris, the pirate Deathstroke confronts Emperor Aquaman!
*(There's a bit of confusion on this point. DC's website has said from the start that Flashpoint #2 comes out next week, and there's no preview out, but Diamond says it's shipping this week, and my local comic shop expects to get it in as well.)
Also
Flashpoint: Abin Sur, the Green Lantern
Flashpoint: Batman, Knight of Vengeance
Flashpoint: Secret Seven
Flashpoint: The World of Flashpoint
Coverage at Speed Force
Since the event is so huge, we'll be focusing on the directly-Flash-related series here. Flashpoint itself, of course, plus Citizen Cold, Kid Flash Lost, Legion of Doom (starring Heat Wave), and the Grodd of War and Reverse Flash one-shots. That's still a big job (and yeah, I know I'm late with Flashpoint #1), so we've broken the books down among our regular contributors.
Share