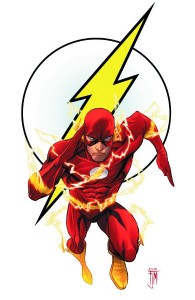 Comics Should Be Good continues counting down the results of their Top 50 DC Characters survey, and Barry Allen comes in at #9. The reborn Flash received 1604 total points, and 27 voters named him their favorite DC character.
A Top 10 spot is a big climb from the #29 rank he took in 2007. DC Comics has clearly been successful at building up Barry Allen's popularity in the years since he's returned.
We've seen three of the four main Flashes so far, with Bart Allen and Jay Garrick at #36 and #45. Still no sign of Wally West, but given his popularity among online fans, it's unlikely that he dropped below Bart and Jay.
With Robin (Tim Drake) ranked #8, there are seven slots left. Sure bets include:
Superman
Batman (Bruce Wayne)
Wonder Woman
Batman/Nightwing (Dick Grayson)
Green Lantern (Hal Jordan)
That leaves two up for grabs. Based on other people's comments and my own gut feeling, I'd say the remaining two slots are likely to be Flash (Wally West) and the Joker.
The question is: What order?
Keep an eye on Comics Should Be Good as they continue the Top 50 countdown!
Share