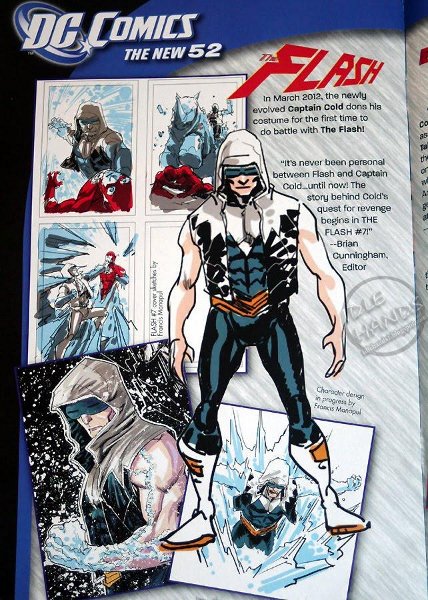 Old news, but I missed it with all the Christmas/New Year/catching up with family from out of town/etc.:
Flash co-writer Brian Buccellato posted in a couple of forums last week that the Captain Cold arc originally scheduled for issue #7 has been moved up to #6, replacing the stand-alone CSI mystery originally solicited.
From the CBR thread:
Speaking of Captain Cold…

I wanted to give you all a heads up that we've moved the Captain Cold storyline up to ISSUE #6. Rumor has it that the folks REALLY wanna see the Snart. Done and done. 🙂

Jingle Bells!
In response to questions, he adds:
Hey guys… as it stand now, the Captain Cold arc is gonna be 3 issues. As far as the original #6 with the mystery… not sure when we are gonna get to that one. We still want to do it, though. 🙂
Personally, I'm kind of disappointed, since I was really looking forward to reading about the history of Central and Keystone Cities, and a straight CSI story would really take advantage of the fact that DC chose Barry Allen for this universe's Flash. (To be honest, I was more intrigued by the 150-year-old cold case than by the Captain Cold story.)
Still, I can understand the decision. If there's anything DC learned from "The Wild Wests" and "Lightning in a Bottle," it's that the Flash audience wants to see Rogues. And then there's the "Eh, it's just filler" attitude that many readers have toward done-in-ones. I can imagine DC might be afraid of losing momentum on the book.
Here's hoping that they'll be able to fit in the cold case story sometime soon!
Share