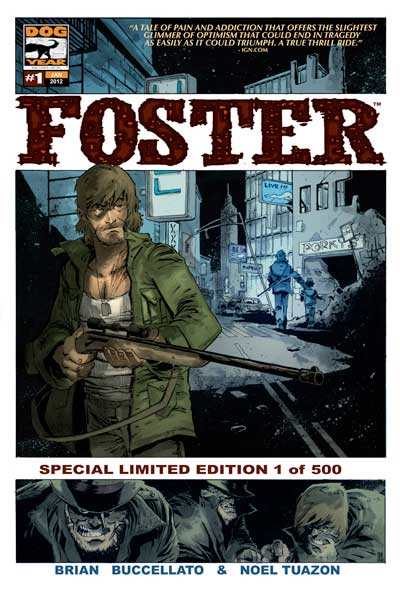 The first issue of Flash co-writer Brian Buccellato's creator-owned comic, Foster, is now available in a special, 500-print signed limited edition at…
It's also available digitally (again at the writer/artist's website), and will be released in a more general print run soon.
FOSTER, a haunted war veteran trying to forget the world at the bottom of a bottle, becomes the guardian of a 6 YEAR-OLD BOY who is the offspring of a woman and a PRIMAL RACE OF SUPERNATURAL CREATURES that lurk on the fringes of society and need him to repopulate. In a world where technology is stuck in the analog '70s and danger lurks around every corner, three rival factions want the half-breed child. Now Foster must navigate the shadow world, twisted scientists and his own past in order to keep the boy safe while winning his trust, nurturing his humanity, and trying to prevent him from giving in to the monster within. [Read more…]
Last week, Buccellato spoke to Newsarama and Comic Vine about the 6-issue miniseries, which he's self-publishing through his Dog Year imprint. Check out the interviews for preview pages.
FOSTER
Created by Brian Buccellato
Written and Colored by Brian Buccellato
Art by Noel Tuazon
Letters by Troy Peteri
Cover by Mike Henderson & Brian Buccellato
Share