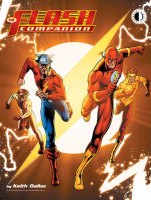 TwoMorrows Publishing is running a sale on their Companion books through Valentine's Day…for 40% off list price! That means you can pick up The Flash Companion for only $16.17!
So what is The Flash Companion?
It's a book published in 2008 detailing the behind-the-scenes history of The Flash from Jay Garrick's first appearance in 1940 through the death of Bart Allen and return of Wally West, including the 1990 TV series.
Most of it is about the artists and writers who have worked on the character. Articles on Gardner Fox, Sheldon Mayer, and Julius Schwartz. Interviews with legends like Carmine Infantino, who reveals the origin of the Rogues, and Harry Lampert. Cary Bates on going serial in the seventies. Mike Baron's fast living with Wally West. Mark Waid on creating Impulse, his reaction to Bart Allen's death, and his tribute to the late Mike Wieringo.
"Flash facts" about critical turning points. Pages and plots from the stories that went unpublished when Flash Comics was canceled. The Flash who DC almost introduced after Crisis on Infinite Earths. The actor who turned down the role of Barry Allen.
Artwork and photos. Lost covers. A Rogue's Gallery.
The book was written by Keith Dallas, who recruited a number of Flash fans (including myself) from the Comic Bloc forums to contribute additional material.
I highly recommend this book for anyone interested in the history of the Flash, or in the writers and artists who have created and guided the character for the past 70 years.
(Full disclosure, since I contributed a few articles: No, I don't get any money for it, unless you buy it through my Amazon link in the sidebar — but then, you'd miss out on the discount price at TwoMorrows.)

Share