David Huang writes in about the soon-to-be-released DC animated feature, Justice League: Doom, based on the "Tower of Babel" storyline in JLA.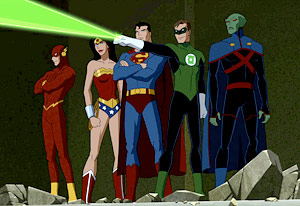 I recently attended the premier of Warner Brothers Entertainment's Justice League: Doom at the Paley Center in NYC and just thought I'd share a few Flash facts about the animated feature… mild spoilers follow:
Michael Rosenbaum reprises his role as The Flash, but this time as Barry Allen instead of Wally West. Slightly less of a ham, but there is plenty of humor sprinkled throughout Dwayne MacDuffie's great adapted script for Flash and the whole cast.
This is Barry Allen's first modern animated appearance as forensic law enforcement in the field.
We see a costume change where the suit ejects from the ring.
We get to see Flash use his intangibility, whirlwinds, & accelerated healing. There is a lot of action in this animated feature. No punches pulled.
Second only to Vandal Savage, Mirror Master is probably the most important villain in the piece and presented as a proper threat.
Cheetah does not appear to be a speedster.
Superman appears to fly faster than light. Green Lantern as well.
Cyborg is a key character and graduates to the League but no mention of the Titans.
The contingency plan for Flash is much more logical here than in Waid's original; the fix is a little less clear, however.
Justice League: Doom arrives in stores on February 28.
Share