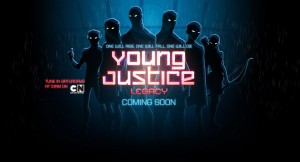 Earlier this morning, video game publisher, Little Orbit, announced that they have just inked a licensing deal with Warner Bros. to bring Young Justice: Legacy to the Playstation 3, Xbox 360, Wii and DS early next year.
The game takes place in between Seasons 1 and 2 of the show and features an original story written in collaboration with Greg Weisman and Brandon Vietti, the show's writers. The game so far boasts a roster of 12 playable heroes to be revealed at a later date (although I think we have a good idea of a few of the cast members at least) and 12 villains to defeat. The game will also feature several cameos from various heroes and villains from the DC universe as well as online AND (this is a big deal for me) local multiplayer modes.
They aren't exactly too clear on the nature of the game or how it will be played but I'm going out on a limb and assuming (hoping) that we are going to receive something akin to 2006's Justice League Heroes or the Marvel Ultimate Alliance series. Speaking of Justice League Heroes, I recently repurchased the console version for the PS2 (I let a friend borrow it years ago and he never returned it) and hot damn, what a fun game. The Dark Flash and Jay Garrick unlockable skins make it even more fun and special for us speedster fans. Even better now that I have a friend to play co-op with. If they could just take that game tweak the gameplay a bit, let you pick whoever you want whenever you want, and update the graphics we could have a great game. I guess we will have to wait and see as the information becomes available.
I can pretty much say with 100% certainty that we will at least be seeing Kid Flash as a playable character but I can't say the same about The Flash. Do we really need two characters that play so similarly? Of course my answer is "yes" because I would love to have Flash and Kid Flash as playable characters in the game but it would make more sense for them to use that extra slot on a different character with different powers. I wonder if they could sneak him in as an unlockable or even give him a slightly different fighting style and special moves?
In any case, you can follow the game's progress and any updates on Twitter.
And since we are on the subject of Young Justice and I haven't posted anything new to Speed Force in a while, here are some bonus pics of the Team Speedsters Young Justice Two-Pack: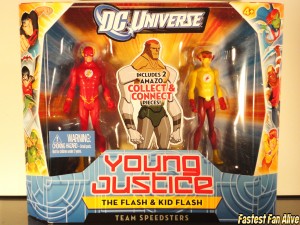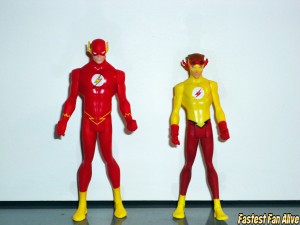 Just a quick selfless plug; I recently began actively posting again on my own blog, FastestFanAlive.com and I finally have a page on Facebook. So if you enjoy seeing these collectibles check out my website for a lot more of them and "like" my page on Facebook to get steady updates when I post.
Thanks for reading,
Share