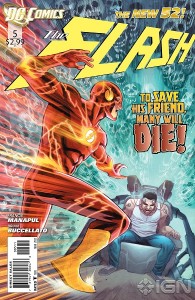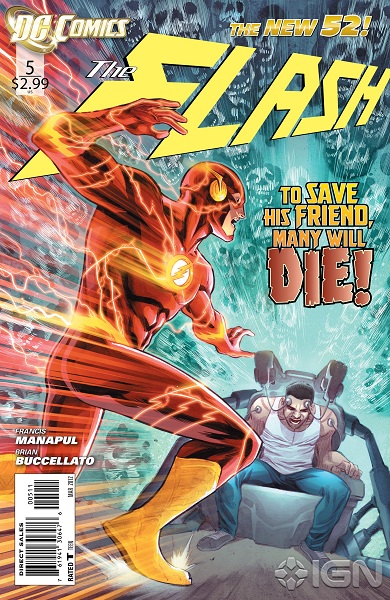 Five months into the New 52, the latest relaunch of The Flash is still a top 10 seller, with Flash #5 taking the #8 stop in Diamond's sales rankings. ICv2's estimates put it at 71,611 units sold*.
Comichron points out that January is usually low, but this isn't bad for a January. (via The Beat) And if January is usually down overall, that means the 7.4% drop for The Flash — the lowest drop since the relaunch — may be exaggerated itself. Could the audience for the series be leveling out near 70K, or in the upper 60s? If so, that's a big win for DC, because the last volume, written by superstar Geoff Johns, stabilized at sales of about 55,000 copies a month.
Digital Difference
Interestingly, while The Flash is holding steady in the top 10 for North American print sales, it doesn't appear even in DC's top 10 digital sales for the month. This could mean that digital readers are less interested in the Flash than print readers, but I don't think the market is quite so simple as having digital readers and print readers. I suspect that most people who buy digital comics still buy at least some of their comics in print form, and with the art being a big selling point for the book, I'd imagine a lot of them are choosing to keep The Flash on the print side of their list.
Numbers
Issue
Rank
Month
Units Sold
% Change
Flash vol.4
Flash v.4 #1
4
September 2011
129,260
Flash v.4 #2
5
October 2011
114,137
-11.7%
Flash v.4 #3
9
November 2011
90,417
-20.8%
Flash v.4 #4
8
December 2011
77,336
-14.5%
Flash v.4 #5
8
January 2012
71,611
-7.4%
A few key articles covering past sales (with lots of numbers):
*What these numbers measure: US-only sales, wholesale from Diamond to comics retailers. They don't count sales through bookstores, they don't count international sales, and they don't count how many copies were actually bought and read…but they do measure the same thing every month, which means they can be used to spot trends.
Share