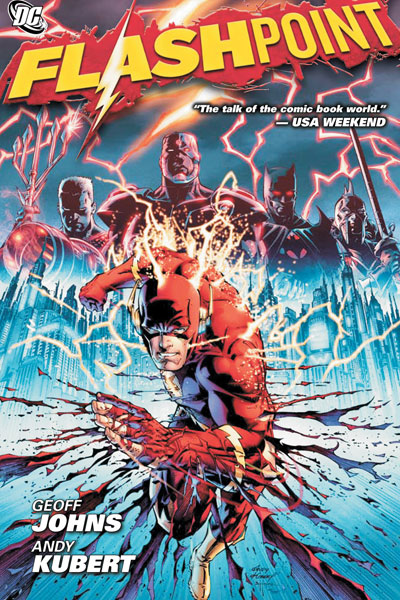 The big DC Comics event of 2011, Flashpoint, is out in trade paperback this week ($14.99). Barry Allen wakes up powerless in a world he doesn't recognize, a world on the brink of war between human and superhuman nations alike. To save the world, he'll team up with Batman to learn who changed history and how to put it right — but this Batman isn't who he expects to meet beneath the cowl.
Of course, the conclusion of Flashpoint led directly into the reboot of the DC Universe into the form of the New 52.
The Geoff Johns/Andy Kubert miniseries was previously collected in hardcover last fall.
The various tie-in miniseries and specials will be collected in five trade paperback volumes starting next week. World of Flashpoint Featuring the Flash ($17.99) arrives in stores March 21, and collects Grodd of War, Kid Flash Lost, Legion of Doom, Reverse Flash and Citizen Cold.
Order at Amazon for delivery next week, or buy it in your local comic shop today!
Share