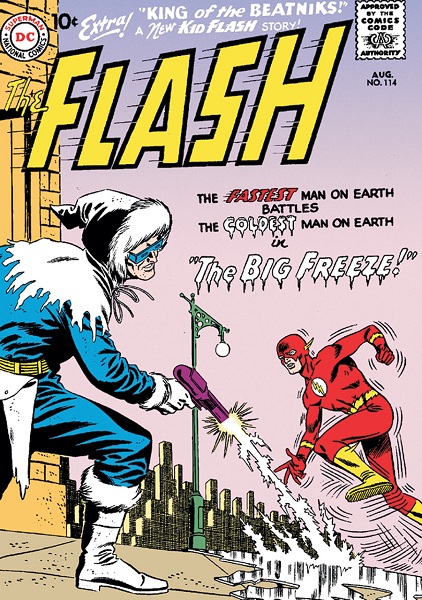 I've been wondering whether DC planned on continuing the Flash Chronicles line of reprints. With the return of the Archives this year, I should have guessed we'd see a new Chronicles volume soon, and in fact, volume three is listed in DC's July+ solicitations.
THE FLASH CHRONICLES VOL. 3 TP
Written by JOHN BROOME and GARDNER FOX
Art by CARMINE INFANTINO, JOE GIELLA and MURPHY ANDERSON
Cover by CARMINE INFANTINO and MURPHY ANDERSON
On sale AUGUST 8 • 160 pg, FC, $14.99 US
In this third collection of 1960s adventures in chronological order, the Fastest Man Alive battles Rogues including The Trickster, Captain Cold, Captain Boomerang, Gorilla Grodd and more.
Collecting THE FLASH #113-118.
Update: It's available for pre-order.
DC has three series of reprints designed to start at the beginning (or at least the beginning of the Silver Age) and collect everything in chronological order:
Archives: High-quality, hardcover, color reprints, typically about 200 pages, relatively expensive. For people who want a book that will last. Five volumes so far, with a sixth on its way.
Showcase Presents: Cheap, black and white paperbacks on newsprint, around 500-600 pages, for people who just want to read the stories. Currently on three volumes in the early 1960s, plus one featuring the Trial of the Flash in the 1980s.
Chronicles: Cheaper, color paperbacks, more like a typical collected edition of more recent comics.
I keep meaning to work out the math of just how many volumes each of these lines would need to reprint the entire 1956-1986 Barry Allen Flash series (including the four Showcase issues early on) — and how long it would take to complete them at DC's current rate of publication.
Share