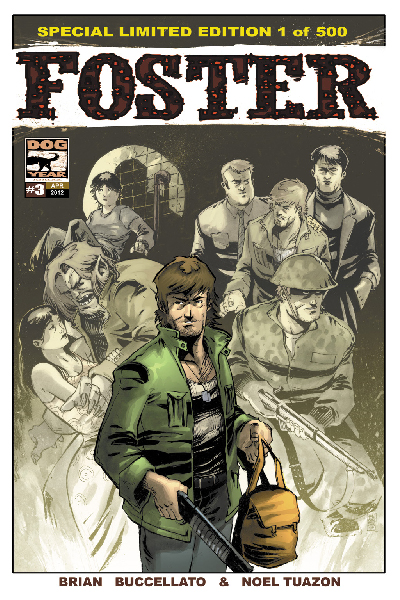 Flash co-writer/artist Brian Buccellato's creator-owned comic book, Foster, has added a new chapter. Issue #3 is now available in the limited edition from his website and at upcoming convention appearances, while issue #1 (and soon #2) is available in a standard edition with cover by series artist Noel Tuazon. All three issues are available digitally for $1.99 (less than a new DC comic!)
For Comic-Con International, Buccellato plans to release a Foster Anthology featuring five short stories with different artists, set in different time periods and fleshing out the universe. Unlike the main series, this one is being funded through Kickstarter, seeking to raise $5,000 by May 20.
If nothing else, you need to look at the list of perks you get for various donation amounts. Some of them are obvious, like the "It's just like pre-ordering it" level, or free-sketch level, but for $30 he'll let you win at Words With Friends, for $150, he'll meet you at an LA-area gas station and pump your gas, for $250 he'll play basketball with you…
Foster, a haunted war veteran trying to forget the world at the bottom of a bottle, becomes the guardian of a 6 year-old boy who is the offspring of a woman and a primal race of supernatural creatures that lurk on the fringes of society and need him to repopulate. In a world where technology is stuck in the analog '70s and danger lurks around every corner, three rival factions want the half-breed child. Now Foster must navigate the shadow world, twisted scientists and his own past in order to keep the boy safe while winning his trust, nurturing his humanity, and trying to prevent him from giving in to the monster within.
It's a great book, very different in tone from The Flash but in a way that fits the story and genre. Definitely recommended.
Share