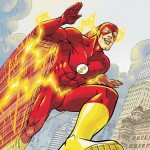 Who here has bought the Flash Omnibus by Geoff Johns collections? Reader Nick wrote in to ask about the size and quality of the binding on the first two volumes.
If you have photos, that would be even better. You can post a link to an image host in the comments, or send them to me by email (speedforce at pobox dot com) and I'll add them to the main post.
Update: Josh has sent in these photos, adding, "Flash omnibus volume 2 is a much larger than volume 1. Two hundred pages larger, in fact."
Thanks, Josh!
Share