DC Comics' July solicitations are going up today, including the next few months' worth of collected editions. The softcover of Gorilla Warfare comes out in August (the same day as the vol.4 hardcover in fact), and we have a cover and new release date for the previously announced Flash Omnibus Vol.1.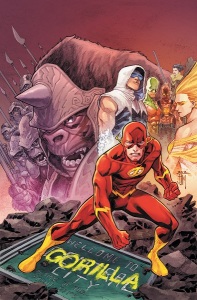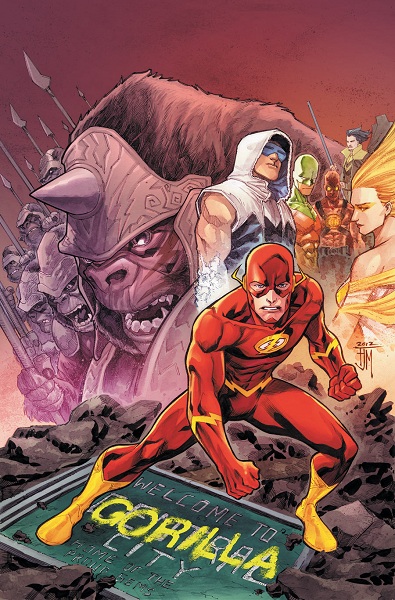 THE FLASH VOL. 3: GORILLA WARFARE TP
Written by FRANCIS MANAPUL and BRIAN BUCCELLATO
Art by FRANCIS MANAPUL, MARCUS TO, MARCIO TAKARA and others
Cover by FRANCIS MANAPUL
On sale AUGUST 13 • 176 pg, FC, $16.99 US
When Grodd and his army descend on Central City, The Flash faces a threat that's murderous and ruthless. And he'll need help from the Rogues to keep himself and Central City alive. This new title collects THE FLASH #13-19.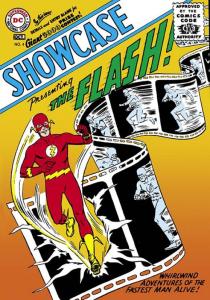 THE FLASH OMNIBUS VOL. 1 HC
Written by ROBERT KANIGHER, JOHN BROOME and GARDNER FOX
Art by CARMINE INFANTINO, JOE KUBERT, FRANK GIACOIA, JOE GIELLA and MURPHY ANDERSON
Cover by CARMINE INFANTINO and JOE KUBERT
On sale SEPTEMBER 24 • 864 pg, FC, $99.99 US
This massive title collects the earliest Silver Age adventures of The Flash, including the origin of the Scarlet Speedster, the first appearances of his sidekick, Kid Flash, fellow detective The Elongated Man, plus his battles against the Trickster, the Weather Wizard, Mirror Master, Mr. Element, Reverse Flash, Captain Boomerang, Captain Cold and Gorilla Grodd. Collects SHOWCASE #4, 8, 13 and 14 and THE FLASH #105-132.