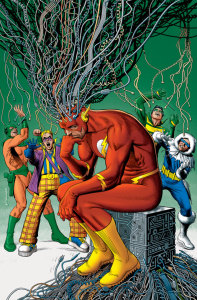 Heads up!
You've probably noticed a few site outages here at Speed Force over the last few months. Well, here's warning for another one. My webhost will be upgrading the network this Thursday evening after 10:00 pm PDT.
DreamHost is allowing four hours for the planned maintenance, but they expect actual downtime to be "minimal."
With luck, the improvements will prevent the sort of unplanned downtime that's been a problem lately.
In the event of an extended outage (this week or any other time), you can usually find me on Twitter at @SpeedForceOrg, and you can catch up on recent posts on the SpeedForce Tumblr. If you don't see anything about it in one of those places, please let me know – it's possible I've missed an alert and don't know yet.
UPDATE It looks like either I misread the announcement or Dreamhost swapped the LAX & Irvine plans (judging by the URL on the now-404ed original post, I'm guessing the former). In any case, the site was down for about half an hour Wednesday evening during the maintenance window. The funny thing is that I spent three hours tonight working on a network migration for my job. Now there's timing!
Share