Francis Manapul and Brian Buccellato are featured in a new interview over at Newsarama where they discuss the title's next steps on the road to the one-year mark of the New 52.  Within, the cover for the upcoming Flash Annual, due in September, is revealed.  It features the first looks at new versions of Mirror Master, Heat Wave and a re-imagined Golden Glider, alongside Captain Cold, Turbine and the new Weather Wizard, forming a Gauntlet of Super Villains for the New 52 Flash.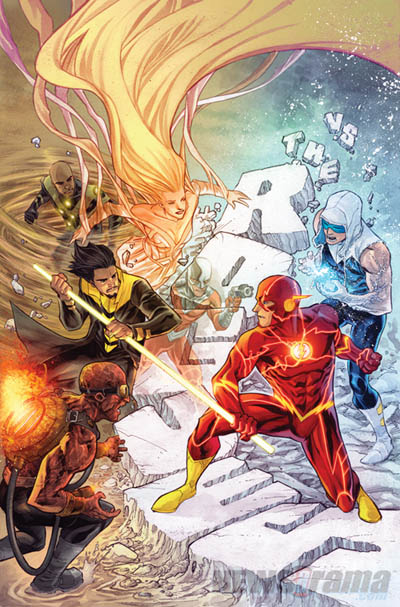 Check out what the duo had to say about thematic ties to Flashpoint, the new, "crispy" Heat Wave, Weather Wizard: Drug Lord and the reintroduction of the Pied Piper (and much more!) after the jump…
The interview is pretty substantial, so we'll highlight the big moments here.  Be sure to check out the full version, including more on the Speed Force and other recent developments, over at Newsarama!
On their vision of the Speed Force, versus previous incarnations:
Buccellato: First of all, we wanted it to be something coherent and something that you can actually visualize and get a grasp on. So for us, a lot of it was practical. I think in the past it had been just, like, some blurry lines and speed force lines. And that's really nebulous and sort of confusing. So when we decided that the speed force was literally going to be the forward motion of time and space, then we needed a visual representation. And that's what we tried to come up with.

Manapul: The mechanics of how it works, even though this is new, it's actually a combination of the ways it's been explained in the past. It's been explained as outside time. And now, it's what's running time forward. And it's been mentioned that Barry Allen was the engine. And now, this shows Barry Allen to be the runner. So he's still the chosen one. So we took a lot of the elements of the past.
On the possible lessons learned from Flashpoint:
Buccellato: We're sort of saying that Flash innately learned his lesson from Flashpoint, like, without saying it. He just knows, somehow, that if you go back in time, you can screw everything up. It's our little way of acknowledging the New 52 and everything that happened.

Manapul: Let's be honest. We both gave a chuckle when he says, "We can't go back in time and mess things up!"
On the Pied Piper, Hartley Rathaway (tip of the iceberg, here):
Manapul: He's going to be a recurring character. He's going to become part of the supporting cast. One of the things that Brian and I are really working on doing is having Barry's supporting cast reflect the journey that he's experiencing.

The conversation and the conflict that David Singh and Hartley are having are reflective of Barry Allen's journey right now. But to answer your question, yes, Hartley will be coming back as a key character in the supporting cast.
On Weather Wizard:
Manapul: Issue #10 is Barry Allen dealing with the ramifications of all the things he just learned. So the issue really deals with the burden of this responsibility.

This will take our story to Guatemala, where Weather Wizard is currently residing. He is also reimagined a little bit. He's a Guatamalan. And he's currently running his family's drug cartel business. And what happens is Patty's inquiries and investigation lead her there.
On Heat Wave and (Golden) Glider:
Nrama: Before that, you have issue #11, which introduces the new Heat Wave. What kind of guy is he?

Buccellato: He's a crispy guy.

Manapul: And Heat Wave hates Captain Cold. He hates him. He absolutely, absolutely hates Captain Cold.

…

I don't think we've announced this before, but issue #12 focuses on Lisa Snart. She'll be the last rogue that we'll be putting the spotlight on before the Annual.

Nrama: Ah, the Golden Glider. Can you give us any hints about her?

Buccellato: Well, she's not Golden Glider. She's just Glider. And she's the most different, probably, of any of the characters.

Manapul: But she's still very much golden.
This is definitely one of the most revelatory interviews with the duo so far!  Share your thoughts on the news and redesigns in the comments section, and check out the full piece over at Newsarama.
Share