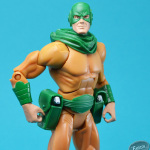 Action Figure Insider and The Fwoosh have posted extensive photos and reviews of the upcoming Signature Collection Mirror Master figure, and it looks great. He's actually been slightly retooled and improved due to fan input since the figure debuted at Toy Fair in February, which makes a good figure even better.
The figure is in the same line as the Jay Garrick figure which became available last month and seems to be well-received, so I'm definitely looking forward to it.
Mirror Master is due out in mid-August. You'll automatically receive it if you have a subscription to Club Infinite Earths, but everyone else will have to order it from Mattel's site.
Share