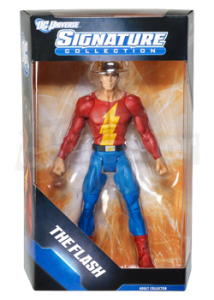 Hey Speed Readers,
Just a friendly reminder for those anxiously awaiting the release of Mattel's DC Signature Collection Golden Age Flash, Jay Garrick, the figure goes on sale on Mattycollector.com this Tuesday, May 15, 2012.  Of course those that signed up for the subscription (not I) will be getting theirs shipped out automatically. Although earlier this month Mattel posted on Matty's news page that due to "logistics issues" the shipments of the figure won't be arriving at the docks until pretty much the day of the sale. Due to that they've told customers to allow 5 to 7 additional days for orders containing the figure to arrive. Naturally the customers who subscribed to Club Infinite Earths 2012 will receive their orders first. The figure will set the rest of us back $18.99 usd plus shipping.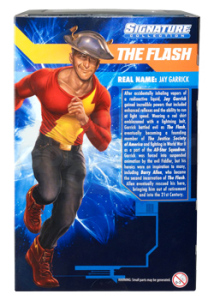 Now for those of you who want to make an intelligent, informed decision about whether you will be purchasing Mattel's version of Jason Peter Garrick this Tuesday you are in luck:
Action Figure Insider has long been a source that I use to keep track of various toy collectible news. One of their founders and main contributors, Daniel "JuliusMarx" Pickett, has through sheer force of awesome worked out a deal where he receives sample figures from Mattel on the regular and before most people ever get a chance to lay their mitts on them. He snaps some great pictures of them, tells you a few details about them and gives us an overall impression of the figures. You can see AFI's First Look HERE.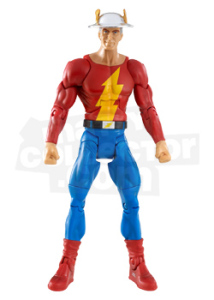 Another toy blogger, Dan "Pixel Dan" Eardley also receives samples from Mattel but likes to give us his impressions in video form. His website, Pixel-Dan.com, is immensely popular and his Youtube channel has over 11,000 subscribers with over 8 million views. Now I personally prefer to read reviews and check out pictures but Dan has some extremely professional looking work. He also works the crap out of the samples, testing out joints, and twisting limbs back and forth so we don't have to. You can check out Dan's extremely detailed and informative review of Jay Garrick HERE.
Remember DC Signature Collection Jay Garrick will be available this Tuesday. May 15, 2012. You can find the product page HERE.
So who plans on picking up Jay Garrick this Tuesday? For that matter who already has the figure pre-purchased through the Club Infinite Earths Subscription? Let us know in the comments below.
Thanks for reading,
Share