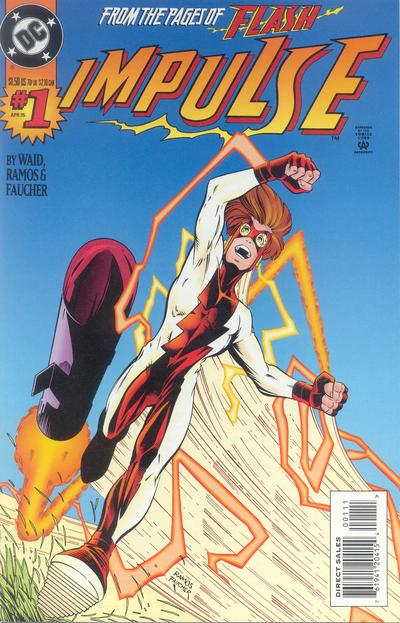 DC has posted a list of collections for Spring 2013, including this surprise:
Impulse Vol. 1: Runs in the Family TP
Writer: Mark Waid
Artists: Humberto Ramos, Wayne Faucher and Brad Vancata
Collects: IMPULSE #1-6, 8-9 and 12-13
$19.99 US, 240 pg
March 2013
It's been 15 years since DC first tried collecting Impulse in Reckless Youth. That book collected Bart Allen's three-part debut from Flash #92-94, plus the first six issues of his solo series. A few years back, during Flash: Rebirth, they capitalized on Ethan Van Sciver's name by releasing the oddly titled The Flash (Featuring Impulse): Mercury Falling, which collected Impulse #62–67.
These issues feature the first appearance of White Lightning, guest appearances by XS of the DnA Legion of Super-Heroes, and several stories focusing on Bart's circle of friends at school.
So, what's missing?
Impulse #7 is a fill-in by Martin Pasko, Nick Gnazzo and Mark Stegbauer in which Impulse battles a villain called Gridlock.
Impulse #10-11 are part of the "Dead Heat" crossover with The Flash, and were previously collected (again, over a decade ago) in Flash: Dead Heat. Dead Heat is also out of print, but I'm encouraged by the fact that DC has been re-releasing the Wally West series digitally, and the fact that they're actually reprinting something by Mark Waid here.
Update! (July): The book is now available for pre-order.
Also coming next year:
The Flash Chronicles Vol. 4 TP
Writers: John Broome
Artists: Carmine Infantino and Joe Giella
Collects: THE FLASH #119-124
$14.99 US, 160 pg
April 2013
This brings the Chronicles series of Silver Age reprints up to 1961, and the Flash Chronicles v.1-4 line up with Flash Archives v.1-3. This collection features the Mirror Master, the Trickster, the Top (with the now-infamous Atomic Grenade!) and Captain Boomerang (launching the Flash into space), as well as well-known stories "Land of the Golden Giants" and the classic "Flash of Two Worlds!"
Share