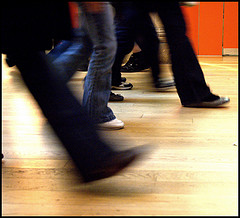 Last year, Speed Force readers helped me raise over $1000 for food allergy research, awareness, education and advocacy by sponsoring me in the Walk for Food Allergy. The walk was a success, and even got a bit of a Superman/Flash race: My son and I were both wearing Flash T-shirts, and we started off next to a family wearing Superman shirts!
This year's walk is coming up in October, and so I'm reaching out again.
Food allergies aren't like hay fever, and they're more than just hives. Anaphylactic shock can kill in minutes.  I have a severe allergy to peanuts, and I always carry an epinephrine injector everywhere I go, just in case I miss something on an ingredient list, or in case someone preparing the food mixes things up.*
There's no cure yet for food allergies, and researchers are still trying to determine just what causes them in the first place. 15 million people in the US alone have food allergies, 6 million of them children. As a parent, it's frustrating not knowing whether I'm doing the right thing to keep my son from developing the kinds of allergies that I have.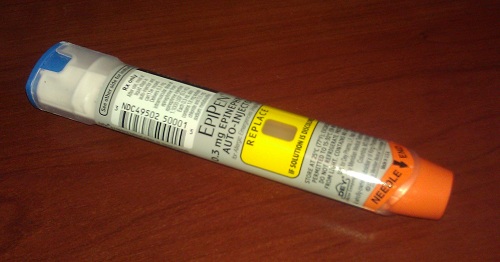 The Food Allergy and Anaphylaxis Network is dedicated to promoting research, awareness and education about food allergies, and providing advocacy on behalf of those living with them. One of FAAN's big pushes this year has been to encourage schools to keep a spare epinephrine injector on hand — and get laws in place allowing personnel to administer it.  Often, a child's first-ever allergic reaction happens at school, before they've even been prescribed medication. On the research front, they're supporting a clinical trial in suppressing peanut allergy through desensitization.
Please support my fundraising efforts with a tax-deductible donation. Even a small donation helps.
If you can't contribute, but would still like to help, I'd appreciate it if you'd spread the word. Please use this link: http://hyperborea.org/allergywalk
Thank you for your support,
–Kelson
*Mistakes happen more often than you might want to believe.  Last month my family flew to Chicago for Worldcon. The night we arrived, we ate at the hotel restaurant. The kids' menu featured a Sunbutter sandwich (made with sunflower seed butter), but they brought us an actual PBJ. I don't know yet if my son has inherited my peanut allergy, but I didn't want to find out the hard way late at night, in a strange city thousands of miles from home. Thankfully nothing happened, as my wife caught it before he tried to eat it, but if she'd missed it, and he had turned out to be allergic…
Photo Credits:
Best Foot Forward by Jason Rogers (used under CC BY 2.0 license)
Epi-pen by Kelson Vibber
Share